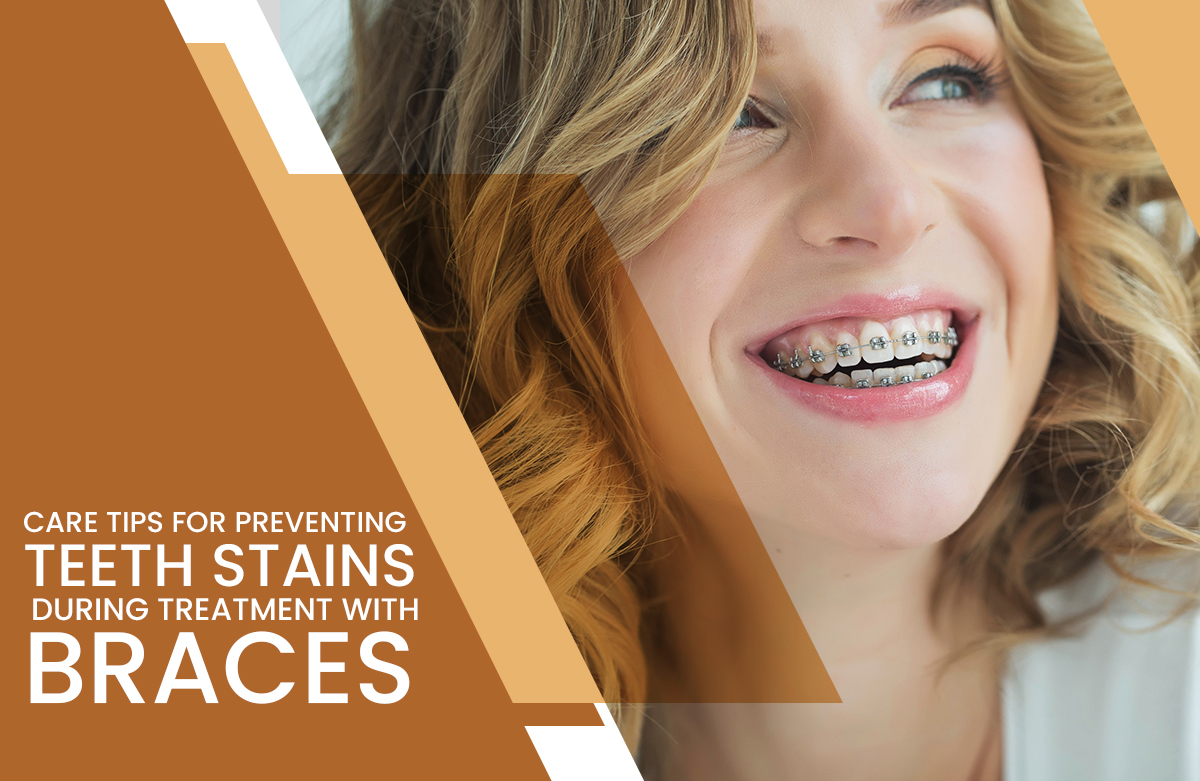 The thought of having perfectly aligned teeth and bite after your treatment with invisible braces is usually exciting. After you remove your braces, you won't have to worry about the look of your teeth, and maintaining your oral hygiene will be easier. All that would be left is wearing your retainers.
The teeth straightening journey may not seem easy, but most people look forward to the end of the treatment. However, for most persons that undergo treatment with braces, some concerns are common as the treatment draws to an end.
Some people's teeth become stained during their treatment, and this is usually a concern for people who want to use braces. Stained teeth are indeed common after braces treatment, but it is not the braces that cause stain teeth. Stained teeth after braces treatments usually occur due to food debris that gets stuck between the brackets and the teeth, which leads to the build-up of plaque on the teeth.
If this is your concern, you shouldn't be worried because it is easy to avoid getting stained teeth. During your treatment, there are certain things you need to do, like paying extra attention to your oral hygiene. This, amongst other things, can minimise the risk of having stained teeth after your treatment with braces.
Here are a few oral care tips to prevent teeth stains during your treatment with braces.
Brush two times a day

Cleaning your teeth by brushing at least two times a day is one of the best ways to ensure your gums and teeth remain healthy during your treatment. It is important to brush before you sleep and at least once in the daytime to remove food particles and bacteria stuck on your teeth, around the braces, and on your gums.

If you do not brush as often as you should, the bacteria stuck between your teeth and braces will begin to act on your teeth which may cause erosion of your enamel. Plaques may also build-up on your teeth which could leave stains on the teeth.

Get an interdental toothbrush to clean between your braces and teeth

An interdental toothbrush is a small tufted brush made to clean areas between the teeth which are difficult to clean with the regular toothbrush. An interdental toothbrush is also perfect for cleaning between your brackets and wires, especially for fixed traditional braces.

To keep your teeth and gum clean, and healthy during your braces treatment, you need to brush your teeth daily with the regular toothbrush and interdental brush.

Avoid stain-causing drinks and food

It may be difficult to completely avoid certain foods and drinks that tend to stain the teeth during your treatment with braces, but it is best to get alternative food and drinks that do not leave stains on the teeth.

Some foods and drinks that you need to avoid during your orthodontic treatment include coffee, red wine, mustard, tea, and tomatoes.

Quit smoking

If you are a smoker, you may need to stop it during your braces treatment, and smoking causes bad breath, discolouration of the teeth, the build-up of plaques and tartar. Smoking during your treatment is sure to leave you with stained teeth when you remove the braces.

If you have committed your time and resources to your orthodontic treatment, it will be best for you to avoid anything that may prevent you from having a beautiful smile.

Limit your intake of sugar

It is advisable to consume less sugary foods and drinks during your treatment with braces. Sugary foods and drinks tend to cause the build-up of bacteria and plaque on the teeth and gums. They also cause discolouration and decay of the teeth.
If you take sugary things while you have braces on, especially between meals, your mouth would not be able to produce sufficient saliva to neutralise the acidic component of the food or drink, and this makes your teeth prone to bacteria attack. Cleaning the teeth after taking sugary foods or drinks is more difficult.
For more tips to care for your teeth during your orthodontic treatment, you can contact Adult braces Clinic in London on 020 3137 3179 You can also visit or dental clinic to get braces for your misaligned or crooked teeth.