Composite bonding
Composite bonding requires a dental hygiene therapist or dentist applying composite resin on the teeth to improve their appearance. Composite bonding is less expensive compared to traditional veneers, and they are also safe. The treatment is a quick fix for gapped, cracked or chipped teeth.
Most people prefer this treatment because it is a fast and affordable treatment option to improve their smile.
Dental composite bonding differs from veneers in a few ways. Composite bonding fixes smaller dental problems on a few teeth, and sometimes, one tooth, and a dental hygiene therapist can perform dental bonding when a dentist prescribes it. The dentist will first examine your bite and your teeth to ensure that composite bonding is the right treatment for you before the therapist can carry out the treatment.
Your dentist may decide to perform the dental composite bonding if the dental hygiene therapist is not available.
Dental Bonding Before After Cases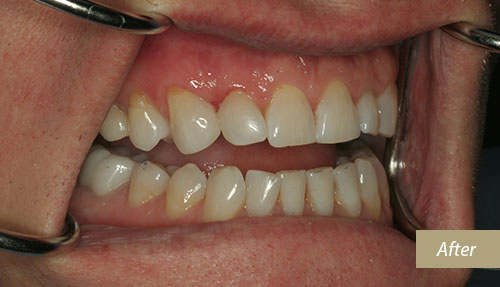 What is not involved in dental bonding
Composite dental bonding is not a composite smile makeover,and neither is it a composite veneer treatment. In composite veneer treatment, the dental professional applies the composite resin on the affected front teeth or tooth. This procedure is more complicated than composite bonding.
Composite bonding is also different from a composite filling. Composite fillings, also called white filling, is used for the teeth at the back of the mouth. It is also different from dental crowns which the dentist uses to cover all the tooth surface.
We are giving £1000 off on Any Invisalign Treatment
Save £1000 off Invisalign Treatment for a limited period
Contact us for your consultation today!
Call Now
Book Appointment
Pros and cons of composite bonding
Composite bonding has several pros that make it a suitable treatment for most persons. It offers a quick fix, and you only need one visit to your dental professional to have a better smile. The treatment saves you a lot of time, and it costs less, unlike porcelain veneers that require you to visit your dental professional several times within three to four weeks to get the perfect smile you desire.
An advantage of composite bonding over porcelain veneers is that the underlying teeth remain intact. The procedure for composite bonding is a non-invasive teeth restoration procedure. The procedure does not damage your teeth which is good for your general and dental health.
The dentist sculpts the composite material on the teeth, and this takes away the need for filing or drilling the existing teeth. This also means that no procedure makes composite bonding difficult. Composite bonding is better for younger patients, who may need dental treatments in the future.
Drilling the teeth for any dental treatment, regardless of the dentist's expertise increases the risk of damage or falling out of a healthy tooth. Having damaged teeth means that you may need implants or root canal treatment.
Be careful with any dentist that recommends the replacement of all your teeth with porcelain veneers, especially if you are young. Porcelain veneers are expensive and need drilling on the teeth, which will likely damage your teeth permanently. However, composite bonding is reversible and does not damage the teeth.
Risks of composite bonding and porcelain veneers
Porcelain veneers treatment is an invasive procedure, meaning that the dentist will drill the teeth and prep it before applying the porcelain material on the teeth. It is possible for a dentist to over-prep the teeth or make a mistake by removing excess enamel. This may cause sensitivity of the existing teeth and damage them. Most young patients may not want to expose themselves to this risk.
Composite bonding takes only about an hour. The procedure does not require drilling or injections. Porcelain veneers are a more complicated dental procedure, which requires an initial consultation and prepping of the teeth, then, your dentist will take your teeth impression and send it to the lab, where the ceramist will make your veneers. While you wait for your veneers from the lab, your dentist will give you temporary veneers.
When your permanent veneers are ready, you would have your final appointment, where the dentist will fit the dental veneers.While fitting the veneers, your dentist has to be careful to ensure your bite remains intact.Getting porcelain veneers can take about a month and it has a lot of steps which means there are more chances of the treatment going wrong.
Most dentists do not have the required expertise and experience with porcelain and composite resin. They are more familiar with traditional veneers. Some dentists may only recommend porcelain veneers because they do not understand the process involved in composite bonding.
Who can get composite bonding?
Some people may not be suitable for composite bonding, and, if you want composite bonding, the dentist will examine your teeth to know if you are theright candidate for the treatment.
Generally, people with healthy teeth can get composite bonding. You may think that having a beautiful set of teeth means that your teeth are healthy, but misshapen, crooked and gapped teeth may not be healthy. If you experience any symptom or think that your gums are not healthy, you should visit your dentist to check it out.
If your dentist is examining your teeth, he/she will find out the cause of the dental problem that requires composite bonding. People who bite their nails, grind their teeth or open bottles with their teeth may not be suitable for composite bonding. Your dentist has to thoroughly examine your bite and know your habits that may affect the composite bonding.
Cost of composite bonding
Composite bonding is not as expensive as porcelain veneer and other dental treatments for fixing the teeth. The cost of bonding a tooth starts from £200. Porcelain veneers cost about five times composite bonding cost, and it has several risks.
Some people decide to bond their teeth after treatment with braces because some edges may not be aligned.
We are giving £1000 off on Any Invisalign Treatment
Save £1000 off Invisalign Treatment for a limited period
Contact us for your consultation today!
Call Now
Book Appointment
How long does composite bonding last?
How wellyou take care of your teeth determines how long your composite bonding will last. Generally, composite bonding can last for about 5 – 8 years. Composite bonding is not a permanent dental treatment and is susceptible to tearing and wearing down, but with a qualified dentist handling the procedure and proper care, it would last for a long time.
If you accidentally chip or break your composite resin, you would need to schedule an emergency appointment with your dentist to fix the dental restoration.
Is composite bonding worth it?
Getting composite bonding would be worth your time and the money you spend. The procedure has only a few risks, less complicated and is affordable. If you combine composite bonding, braces, and teeth whitening, your smile will look outstanding, and you will have a more youthful appearance.
If you need an experienced and qualified dentist for your composite bonding procedure, visit ourpractice today or contact Adult Braces London now on 020 31373179 to book an appointment.