Composite Bonding in London
When you want to repair your chipped or cracked tooth or make some changes to your teeth shape, composite bonding is the right choice for you. At Adult Braces London, we work with experienced dentists who have great expertise in performing composite bonding treatment to patients in and around London. This will improve their overall appearance and confidence level. You need to get in touch with us to restore your gorgeous smile by doing the procedure under safe hands only.
Invisalign and Bonding Before After Cases
What should you know about composite bonding?
Composite bonding is a dental method that can help to improve shape, color and overall appearance of your teeth. There is a material called composite resin which can be molded and shaped on the teeth for achieving your whiter and straighter smile. This cosmetic solution can be used for your chipped, spaced or stained teeth. Our dentists try to improve the condition of your teeth and create the perfect smile.
Cosmetic bonding is generally used for fixing these dental issues:
Repair damaged, cracked or chipped teeth
Improve overall appearance of your discoloured teeth
Close spaces in between your teeth
Make the teeth look longer
Change the shape of your teeth
Cosmetic alternative to amalgam fillings
Protect a part of tooth root that can be exposed when the gums recede
Dental Bonding Before After Cases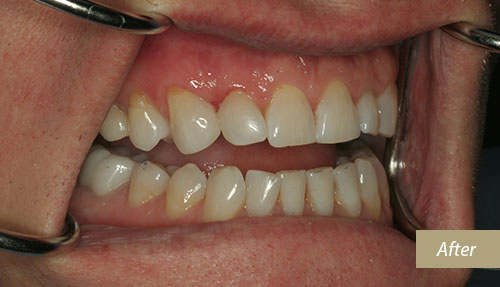 Who is the suitable candidate for composite bonding?
If you want to perform the treatment, then the dentist will check the condition of your teeth and find out know if you are the right candidate for the procedure. People who have healthy teeth are suitable for composite bonding. Most people think that their beautiful set of teeth means they have healthy teeth but crooked, misshapen and gapped teeth are not strong. When you have any symptom or think your gums aren't healthy, you need to see your dentist and find it out.
The dentist will assess the condition of your teeth and know the cause of your oral problem that requires composite bonding. People who have the habit of biting nails, grinding teeth or opening bottles with their teeth might not be the right candidate for composite bonding. Your dentist should thoroughly examine your biting habits and know that can affect the procedure.
Benefits of dental composite bonding
Guarantees natural colour of your teeth
Predictable aesthetic and functional results
Minimal or no drilling of your tooth and so, injection is not required
Most cases can be done in one appointment only
Veneers are reversible in certain situations
Treatment failure can be fixed easily
Several treatment options available
Lessened costs due to minimal laboratory costs
How long will composite bonding last?
It is important to take proper care of your teeth after performing the procedure. This will determine how much time the bonding is meant to last. Usually, they may last for almost 5 to 8 years. Though composite bonding is not a permanent dental procedure and can tear and wear down, you should take help of a qualified dentist who will see that it lasts for a long time.
When you break or chip composite resin accidentally, you will have to fix an emergency appointment with your dentist and fix dental restoration.
Cost of composite bonding treatment
The composite bonding treatment cost in London will depend on our skills, years of experience, time required to complete the work and complexity involved in it. Since the range of options offered by composite bonding is varied, a small filling or an addition begins from £225 to £390 per tooth. You can check out our fees section to get more details about the treatment pricing. Our fees enable you to undergo the treatment to at a lower price in comparison to porcelain veneers.
Bonding Before After Cases
Some FAQs on dental composite bonding
Am I the right candidate for composite bonding?
This depends on various factors such as the position and colour of your teeth and how you want to restore your gorgeous smile. The teeth need to be at proper position that has sufficient enamel to bond together with composite bonding.
How long will composite bonding last?
The treatment timing id determined greatly by how you take care of your teeth. You need to talk to a dentist who will suggest how long composite bonding will last for your case.
Is it possible for bonding to cause damage to your teeth?
Dental composite bonding does not have major risks though the resin used is not similar to natural teeth. The material can separate or chip from your tooth. Breaking or chipping won't take place as often with a crown, filling or veneer.
Is it possible to remove composite bonding?
Yes, since dental bonding is applied without removing the teeth enamel, the method seems to be reversible. If you want to change overall appearance or restore your teeth, then you can do so.
Can you whiten composite bonding?
As the bonding material won't respond to whitening material like your teeth, this is definitely a suitable solution. You will have to replace your bonding material within one or two weeks after getting your teeth whitened. This ensures the composite matches properly with your teeth shade.
Is composite bonding considered to be a permanent solution?
Teeth bonding has not been designed as a permanent solution but it has a good track record. Many patients try to keep composite bonding for at least 10 years or more with proper care and maintenance. After this, they want to undergo a dental bonding procedure for their natural teeth.
Can I clean my teeth in a normal way?
You need to brush teeth at least two times in a day and floss daily. If your dentist gives advice, make sure you are going to follow it.
Can I make any necessary changes to my diet?
You are not allowed to eat certain substances that might cause stain marks on your teeth. Some of these are – tea, coffee, red wine and cigarettes during the first 48 hours. You should stay careful when biting or chewing on hard foods on the affected tooth in future.
How can I know more about dental composite bonding?
You can get in touch with our friendly and experienced team of dentists who are always willing to give all the information you require on composite bonding.
Looking for a qualified dentist to perform composite bonding?
Book an appointment with us to contact Adult Braces London today!